There's nothing more exciting than hunting these beautiful, Eastern Wild Turkeys in the rolling hills of Western Kentucky. The gobble of a boss tom sounding off from the rolling hills, ridge tops or river bottoms of Western Kentucky is hard to escape. Once you've experienced it you'll have it in your blood from then on out.
Kentucky is rated one of the top states to hunt Eastern Wild turkeys. KY also boasts one of the higher hunter success rates in the country. With a limit of 2 bearded turkey and a season that runs from the Saturday closest to April 15th for 23 consecutive days, making it one of the longer spring seaons in the midwest.
Turkey Hunting is an exciting challenge. It is very rewarding to experience what turkey hunting has to offer, whether a successful hunt has been had or not. We will work to accomplish both for you. Most seasons we maintain 100% opportunity and nearly 100% success. Unfortunately we see the occassional miss or a client moving at the wrong time, which impacts our overall success. And to be black and white about things, there are times when we fail to put a bird in front of a hunter.
Here at WKO we stay on top of our turkey throughout the year. This affords us to be able to measure our spring breeding results as we head into fall. We place trail cams throughout the year to keep tabs on the turkey populations we have on each property.
Beginning in January we begin keeping up with fall flocks as they transition from winter into Spring. Birds will begin to break up from winter flocks in late February then move into breeding mode by mid-March and continuing on for several weeks.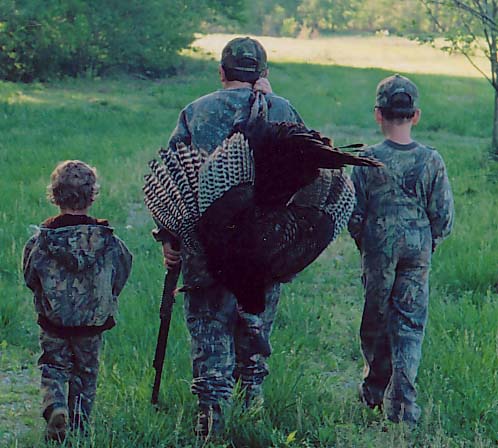 ---
Season Dates: April 14 - May 6, 2018
Let WKO help you bag your longbeard in 2018, Booking Hunts Now!!!
The 2018 season should get set to run April 14th through May 6, 2018. These dates will not officially get set until later in the year during one of the KDFWR commissioner meetings. Once determined we will update the site of the official dates. If you are interested in the opening hunt and book the opening hunt, those dates are yours once set. Same goes for a Second weekend, or Third weekend.
You can click here to view prices.