Welcome to the Front Porch. Here you will find talk about what is going on with WKO and any success we've had. We use only recent photos and references from our hunts. This gives our clients an up-to-date, honest report. Check back daily, because like the seasons it will change.
---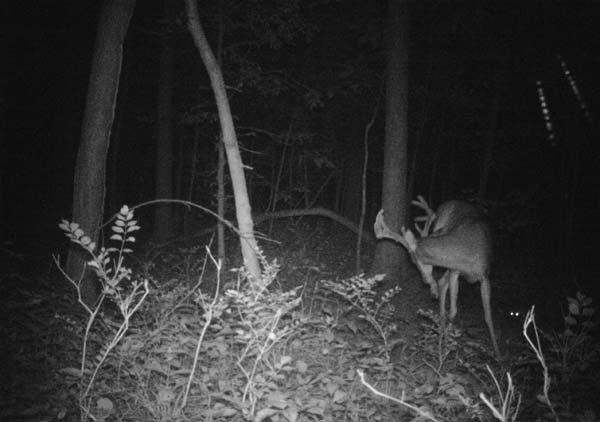 ---

Update: 9.8.17 - Temps have remained cool, though the moon is bright. Our next scheduled hunt group is several weeks out, so there will not be any updates pertaining to hunt success since we did not put any on the books for the remainder of September. If you are interested in a Sept hunt let us know as we continue to Scout, work in the field and begin preparing for upcoming hunts.
9.7.17 - The archery opener had it's good and bad. We did see a buck in velvet and doe killed on the hunt, while everyone was seeing deer and smaller bucks, along with one hunter passing up on a 2yr old 8pt a couple evenings. The bigger bucks seemed to be rolling through the motion of changes as we began seeing the velvet coming off on the evening of the 2nd into the 3rd and several buck by the day. Outside of Monday, temps were more than favorable for good deer movement. No real excuses there. The moon coming bright day by day didn't help, but it's hard to say it hurt things as it's the early season and we're hunting unpressured deer. We'll have some pics updated tomorrow, along with success posted as well.
If you are interested in hunting with us in 2017 hit us up with what you are looking for.
What to expect during your hunt ---> HOW OUR HUNTS TAKE PLACE
Youth Rifle 14-15
October 25-30, Archery
December 9-17, Muzzleloader
9.1.17 - It's been a long week of preparation, glassing, scouting and wondering what mother nature was going to throw at us. But opening day is here. We are seeing a few corn fields getting cut, the 40mph winds have put some red oak acorns on the ground, BUT we still have bucks in VELVET! Which is what most come to hunt the early season for.
We turn the page on another season tomorrow. Check back next week for updates on the hunt, updates in the trail cam section and hopefully a success photo or two.
8.23.17 - For the next several days it's feeling more like fall as temps will stay in the high 70's during the day and dip into the upper 50's at night. We can only hope the cooler air stays around for the archery opener coming on 9/2. Activity on the bean fields continues to be good, coming both early and late in the day. We've not seen any velvet come off at this time, but we are in that time frame when some years we can see clean antler this early. #fingerscrossed for those of you wanting to shoot a buck in velvet.
We updated a few pages of trail cams last week and will be updating more pages over the next couple of days. As the season gets under way the Trail cam section isn't updated as frequently, but we will post cam pics here on the porch and provide additional web pages such as Scrape pics, November pics and similar pages as we get into particular times of the year.
The much awaited solar eclipse has come and gone here, which most of the area experienced 96-100% coverage of the sun. As the sun was covered there became a weird eery about things as then wind calmed and many of your typical sounds associated with dusk and darkness began to break their silence for a few minutes as our surroundings appeared to be sunset like for 360 degrees. Or if you were not in an area with total sun coverage, you experienced something more like dusk. The next solar eclipse in 7 years will make it's path through our area again, however it's path shifts a bit north and doesn't cover as much of Western Kentucky as this eclipse did.
8.18.17 - Keeping the site up to date has been a little challenge the past week or so. We've been trying to stay ahead of the rain with some fall food plot work, tending to sun flowers and general prep for the Archery opener in 15 days. You read that right, 15 days. Hard to believe, but the season is upon us. For you early season hunters; prepare for mosquitos and ticks. There are no limits on them, so kill as many as you'd like.
Hunts. Here is what we have. Couple spots for the 2nd archery hunt in September. And 2 spots for our late October pre-rut hunting that can cover any 5 days between October 25 and October 30th. Set it up as a 3-4 or 5 day hunt. We also have limited openings during the 9-day December Muzzleloader hunt.
8.10.17 - The days keep getting marked off the calendar in a big way. 23 days to the Archery Opener! We've had some cool nights recently that have helped with activity on the bean fields. Some decent rain fall to start the month of August as well, which bolds well for fall plotting. The next 7-10 days will be peak antler growth for most bucks. And with that we will have a good number of stand locations in place, while others will get dictated by any changes we see taking place through glassing and observation. Trail cams continue to run 24/7 and while always a good tool, never replaces knowing your property, food sources, bedding and what's going on with all three.
Hit us up if you are looking for a bow, rifle, fall turkey or late muzzleloader deer hunt.
8.4.17 - Getting into August means we're getting down to some business. Bucks are packing on the inches and just a couple weeks away from reaching their growth potential. They've been set in their ways for a while now, but some will begin to transition to other areas while still maintaining summer activities on fields and daytime feeding. With a couple more weeks of glassing, camera checks and seeing some of these bucks doing the same things we'll be getting stands in place for our early bow hunters set to arrive come September.
We're processing the latest round of cam checks, so we'll have some updates on the cam pages come Monday/Tuesday if not sooner.
7.28.17 - With some cooler temps deer activity during the evening on the bean fields has been better the last couple of days we've been out. The weekend should be in the 80's which will help with movement and making some of these bigger bucks visible during good light. The above picture was taken this week on a farm access road into one of our properties.
We'll be making our rounds and making trail cam checks again over the next 3-4 days and will post up some pics next week. If you haven't seen the latest updates, you can check them out here. Trail Cams.
7.25.17 - We've seen some rain, some of the hottest days of the year with a few days of cooler air here and there, but for the most parts it has been blazing hot. Deer activity of the evenings has been slow. Most activity has been right at dark. There hasn't been many bucks venturing out into the beans before 8pm on the days where temps hit 98 and the heat index climbed well into the triple digits. In general cam activity took a dip as well, which is why we've been a bit slow posting an update to the trail cam section, but we have some new images going up today, tomorrow and Thursday. Then we'll have additional updates next week.
We changed things up a big with our glassing and field watching this week and shifted to the mornings and have seen much better activity with deer moving off the fields of the morning than activity in them before dark. The heat has been pretty unbearable, combined with being fairly dry until recent days, it's been pretty miserable.
This upcoming weekend will mark 5 weeks until the archery opener. It's hard to believe, but August will be gone in a Flash. If not prepared, now is the time to get the bows out and shooting straight!
What to expect during your hunt ---> HOW OUR HUNTS TAKE PLACE.
If you are looking for a custom call this spring, give these calls a look. They are great sounding, and good looking, custom turkey calls. I've owned them for a couple years now and have put both Spring and Fall gobblers down with them. Give Dave Hawksford consideration if you are in the market for a custom turkey call. You can find him online at http://www.morningsunturkeycalls.com/.
---
---
We run cams 365 days per year.
---
If you are looking for help to hunt or fish in Kentucky drop us a line and see what we can put together for you. Good Hunting! wkohunts@gmail.com