Welcome to the Front Porch. Here you will find talk about what is going on with WKO and any success we've had. We use only recent photos and references from our hunts. This gives our clients an up-to-date, honest report. Check back daily, because like the seasons it will change.
---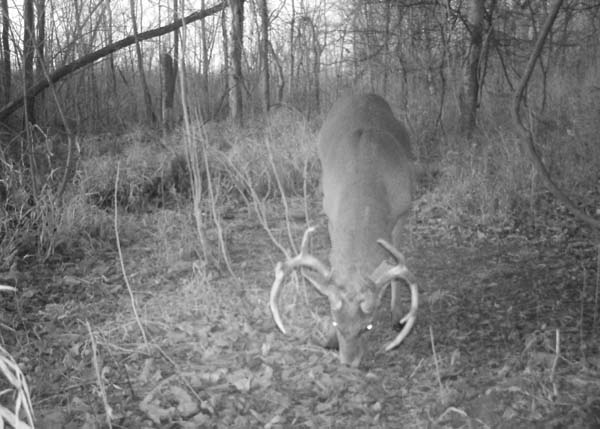 ---
Update: 1.4.18 - We hope everyone had a Happy New Year and welcomed it in Safe. We were dragging out success New Years eve for our Youth here hunting the 2 day rifle hunt. It was a cold weekend to sit in the woods but the boys took to the challenge and made looked pretty tough doing so. There was quite a few deer seen in numbers, but not much antler to talk about. The afternoons seemed to be where the most action occured as the moon became bright on us during this hunt, but none of the shooter class bucks we were targeting showed during daylight on the short 2 day hunt. Nonetheless a couple does hit the ground and made the travel back to the boys home states. Great guys here hunting.
Our waterfowling continues to be pretty dismal. There has been hints of decent numbers here and there, but it's never remained good. A couple dry field hunts have produced, with the deep freeze, most all of the small water is locked up. Bigger lakes and rivers are open but without numbers, there just isn't a lot of good hunting to be had. We should see some water open back up next week. The question will be birds.
What to expect during your hunt ---> HOW OUR HUNTS TAKE PLACE.
12.29.17 - This will wrap up our posts for 2017 as we head into the last deer hunt of the year, not the season but for 2017. We'll kick the late Youth rifle hunt off in the morning with a cold one, some possible snow flurries and wind chill that will get us down into the single nuggets. Burrrrrr! On a positive note, deer activity has been pretty good of the mornings and afternoons alike with temps having been cold all week the deer are focused on food and conserving energy.
The duck and geese movement has not been much to talk about. There seems to have been a small push of birds in recent days, but with the cold temps we've seen a deep freeze and most all shallow water is locked up if it's not being kept open. Some dry feeding hunts have been successful but staying locked on the birds has proven difficult as they change their locale. Many of the birds have been picking up and moving almost as quickly as they have sat down in the area as well, making it more about timing and being lucky.
12.22.17 - Tis the season. As 2017 gives way to 2018 it's easy to find ourselves wrapped up in the frantic pace of shopping, attending parties, and filling every minute of available time with "required" activities. Instead of giving into the pressures of that type of schedule, hopefully you can give yourself the gift of some quiet time, whether it's at home, in the garage, or perhaps outside; quite possibly somewhere on the water, in a tree or a duck blind. Where you can reflect on what is most important to you and you an ensure those relationships get priority next year. Time of self-awareness can reduce stress and provide clarity and provide great perspective that often increases your enjoyment of a season that should be filled with celebration and joy.
From all of us here at WKO, Merry Christmas to you and your loved ones. If Christmas is not a holiday you observe, we wish you a season full of joy, grace and peasefulness.
Merry Christmas,
Bill-Tim-Dan-Tyler-Jeff-David
12.20.17 - We closed out the late Muzzleloader with not much to show for anyones efforts. We caught a break from the wind on a couple of sits, but it continued to be a factor most days and kept most of the movement very early and late in the day. During the times when it wasn't a factor there was more activity and as seen in the trail cam pic above, some decent bucks were on their feet during good light and out of cover. Next up in the deer woods will be the special Youth rifle taking place December 30-31st.
We have 1 Youth opening for the hunt below. We also have a late season Archery hunt for the 12-13-14th which has an opening.
There continues to not be much to talk about concerning waterfowl. We've jumped back into that mode this week and the report isn't much different. We've seen some Canadas around, but duck numbers are not any higher than they were a week ago. There has been snow events up north but they have not reached far enough down into IL and IN to really push the birds this far. With temps in the 40's at night, nothing is freezing close. The frost line at this point is way north.
On several occassions during Mzl week bobcats were very active, on multiple occassions hunters reported seeing bobcats during morning and evening hunts on multiple properties. Oddly enough on the same days.
12.13.17 - The late Muzzleloader opener had the colder temps we want to help put deer on their feet during daylight and on their way to food sources. However, with the cold came 15-25, even 30+mph winds which seemed to keep the majority of activity early or late in the day. And sparingly at best. The lone morning with light wind provided the best activity and 3 bucks seen. We did not have any kills during our opening hunt. Our next group gets under way tomorrow and will follow 30-40mph winds today and blue bird skies. Temps will warm up as we approach Sunday and the season closing.
Waterfowl for the most part has a been a big miss. Bird numbers in the area are up but down compared to most years. We've seen some pushes of birds, but we've not seen any great action result. It looks like it will be another seasons of waiting to see what January may bring us.
12.10.17 - 15-25mph winds seemed to keep deer activity at a minimum yesterday. With a SW wind today and a lighter wind we should see a change in movement. Only a small buck and a few does were seen yesterday.
If you want to book wiht us in 2018 now is the time to book. Most all of our prime hunting dates will book between now and mid to late February. 2018 Kentucky deer hunt prices.
12.9.17 - The late muzzleloader opener indeed got off to a cold start with stiffs wind taking the wind chill down into the single digits. With 4 of our hunters being from the deep south, time on the stand may be a bit short today.
---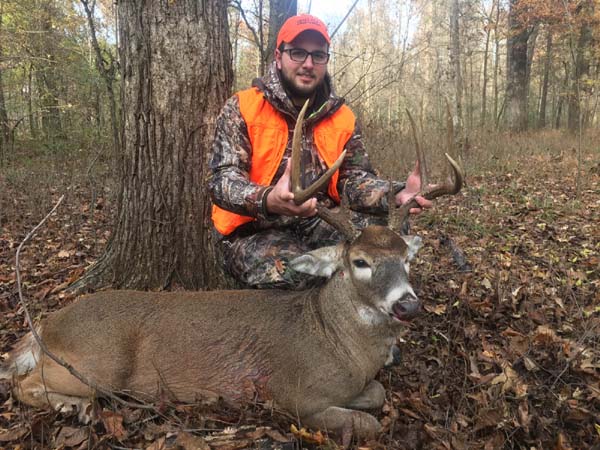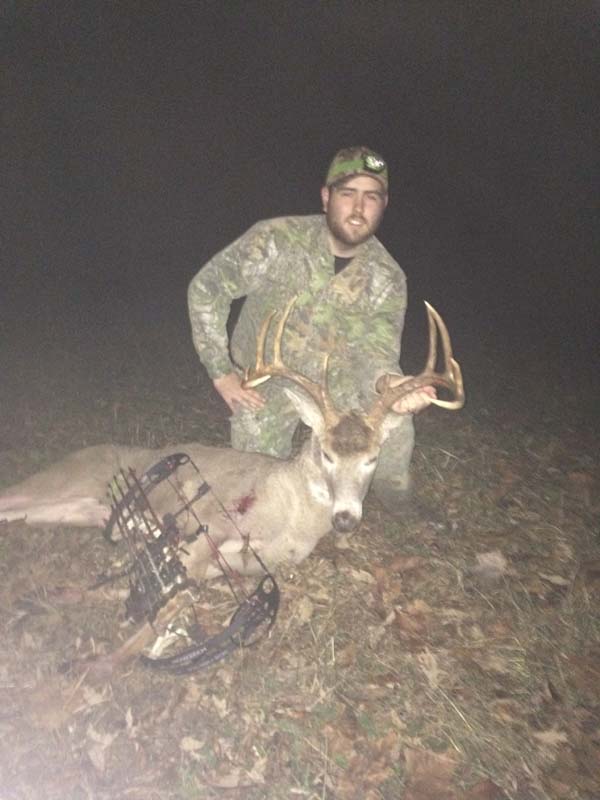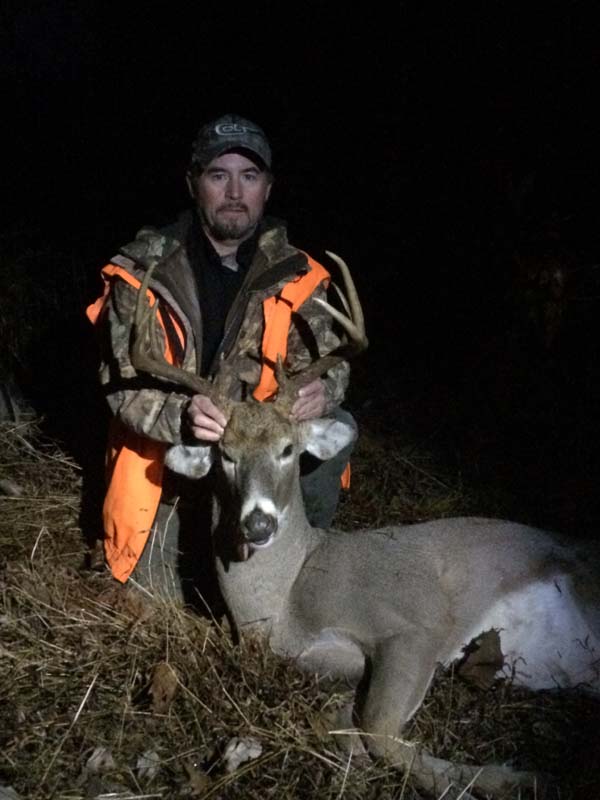 ---
We run cams 365 days per year.
---
If you are looking for help to hunt or fish in Kentucky drop us a line and see what we can put together for you. Good Hunting! wkohunts@gmail.com